Already?! What happened to the 8 week old fluff ball?!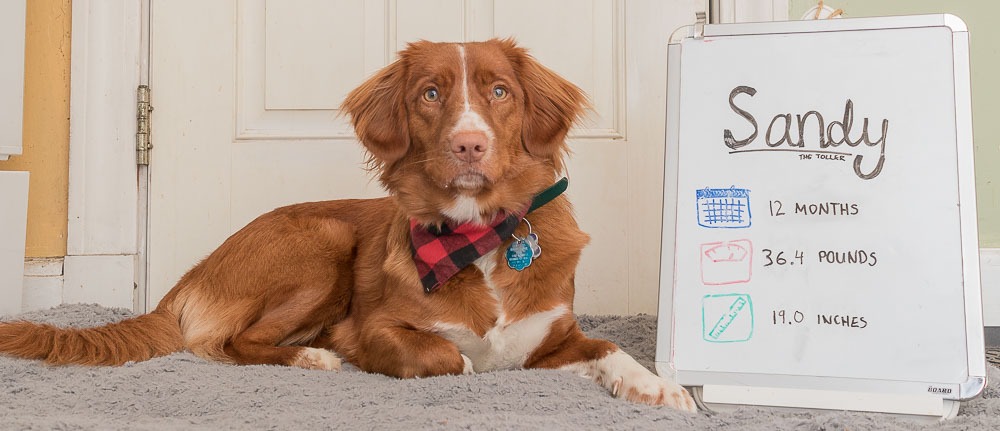 I can't believe Sandy turned 1 last week! She's grown up so fast. She's gone from a teeny tiny 10 pounds when we got her that was more than happy to be picked up with one hand, to this young lady who squirms and feels way more than 36 pounds as you try to corral her to go to bed. She's been healthy and warm hearted, which is all we can ask for.
The bad news for Sandy is that with 1 year comes bad news - getting spayed. We played her heart out this past weekend, taking a mid December swim in the river and having a ball with all her human and dog friends in the Town Forest. Earlier this month she got some snow for the first time since she was a little fluff ball, helping us pick out our tree in the National Forest. And of course, she's been getting even better at convincing us that she belongs on the couch with us, preferably underneath the blankets too!
Cubby Measurement
The best way to show Sandy's growth is by seeing her fit into her little cubby:
2 Months
3 Months
5 Months
6 Months
---
Sandy Grows Up!
Can I Eatz the Airz?
---
Photo Gallery
---
Sandy Summits
Belknap and Gunstock
___
Stats
| Statistic | Value |
| --- | --- |
| Age | 1 year |
| Height at the Withers | 19.0 inches |
| Weight | 36.4 lbs |